Medicines For Erectile Dysfunction - Which One Is The Best in 2021?
24 September, 2021 | Raja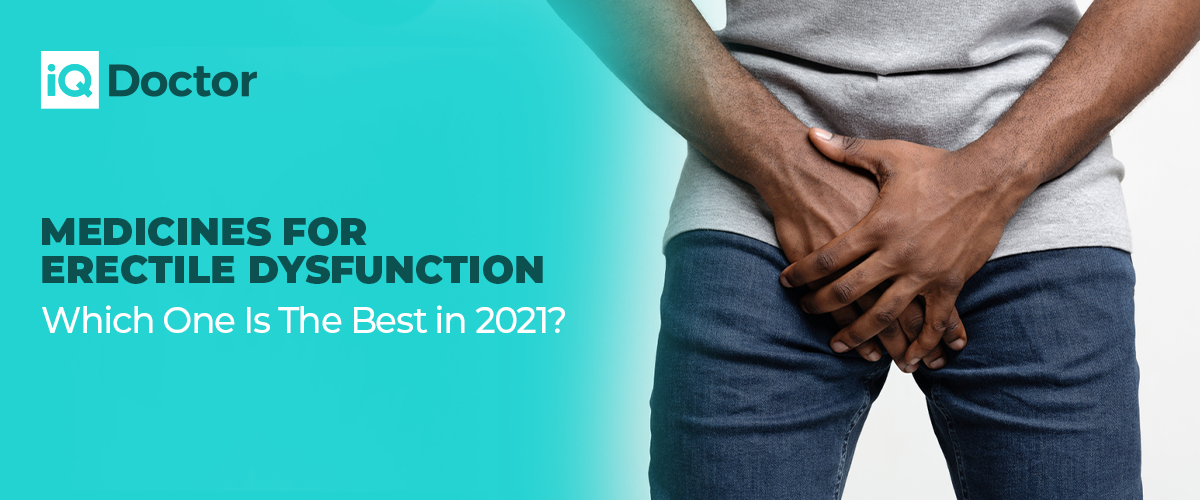 What causes erectile dysfunction?
Erectile dysfunction is described as the inability to attain or maintain a firm enough erection for fulfilling sexual intercourse regularly. The word "regular" is crucial here. It's entirely normal for men to have trouble getting hard from time to time, but if the number of solid erections becomes the exception rather than the norm, or even worse if it stops happening altogether, that is erectile dysfunction, and it indicates there is something wrong.
Although the occasional occurrence of impotence can be inconvenient and may lead to frustration, it is usually not a cause for concern. Erectile dysfunction, on the other hand, should certainly be taken seriously, as it might indicate an underlying health issue that has not yet been diagnosed. For over 20% of people with ED, it is a sign of some underlying medical problems, such as heart disease, high blood pressure, high cholesterol, diabetes, or depression. In these cases, ED is a secondary symptom of the real problem, and treating the actual health concern will also improve the symptoms of ED.
It is also worth noting that erectile dysfunction can also be triggered by unhealthy lifestyle choices or by psychological stress. Obesity, smoking, drinking excessive alcohol, taking certain medications or illegal drugs, anxiety, interpersonal conflicts, or hormonal issues are some factors that can cause ED.
Get a professional diagnosis
Your doctor will do a few basic tests to determine if the cause of your ED is reversible. If the cause is diagnosed as an unhealthy habit or a psychological issue, cutting back on unhealthy habits and avoiding psychological stressors might be enough to resolve your ED without medications. The medications for treating ED are safe and effective in the majority of ED cases.
Factors influencing ED
If you begin to experience ED, you are not alone. More than half of all men experience erectile dysfunction at some time or another throughout their life, and the likelihood of getting ED increases with age. According to one study, a third of all men suffer from ED, with symptoms ranging from mild to chronic. Men over the age of 60 make up half of all ED cases. However, men from all age groups can get ED. 5% of all men under 40 have experienced complete erectile dysfunction.
If you are under 40 and have got ED, you should not feel too distressed. ED is a very prevalent problem, and it's very much treatable.
Modern medicine has come up with remedies for erectile dysfunction, and a range of different treatments have proven to be effective for managing and overcoming ED. All you have to do is to figure out which treatment will work best for you.
If a serious health issue does not cause your ED, the first line of treatment is ED medications.
PDE5 Inhibitors for erectile dysfunction
In the UK and most other countries, four drugs are used to treat ED. These are:
Avanafil (Spedra)
Vardenafil (Levitra)
All four of these medications belong to a class of drugs known as phosphodiesterase type 5 (PDE5) inhibitors. PDE5 inhibitors block and inhibit the production of the enzyme PDE5. This is an enzyme found in the walls of the blood vessels, where it exerts a vasoconstrictor influence. When a man becomes aroused and the PDE5 enzyme is being inhibited, the muscles and blood vessels in the penis become smoother, and the blood flow is increased. The increased blood flow in the penis is the main reason for the rigidity, firmness and duration of an erection. This effect of PDE5 inhibitors is why they are a useful medication in treating erectile dysfunction and pulmonary hypertension.
An important point to note is that these medications only work if the patient is sexually aroused. If there is no arousal, there will be no erection, despite having taken an ED pill.
Sildenafil
Sildenafil (Viagra) is a popular and effective first-line ED medication. Sildenafil tablets are available in doses of 25 mg, 50 mg, and 100 mg. Sildenafil is a rapidly acting medication that starts working in the body within 30 minutes of ingesting the tablet. Its effects generally last for up to 4 hours.
Tadalafil
Tadalafil (Cialis) works similarly to Sildenafil by increasing the flow of blood to the penis. A 2017 study found that many people seem to prefer Tadalafil over Sildenafil, despite the two medications being equally effective.
It is the longest-acting PDE5 medication for treating ED. On average, the effects of a single dose can last for 24 to 36 hours. It is possible to take one dose of Tadalafil every day, at a lower dose of 2.5 mg to 5 mg, which makes it a good choice for the long term treatment of ED.
Research has indicated that people who use Tadalafil appear to have higher sexual confidence than people who use Viagra.
Avanafil
Avanafil (Spedra) is another PDE5 inhibitor that works similarly to Tadalafil or Sildenafil to increase blood flow to the penis. It can start working in just 15 minutes after taking the tablet, and its effects can last for up to 6 hours.
Vardenafil
Vardenafil (Levitra) functions similarly to the medications listed above; it increases blood flow to the penis, which helps in getting and maintaining an erection. According to numerous clinical trials, it is a very effective ED medication. While some people might find the Levitra brand of this drug expensive, the cheaper generic form is widely available.
Branded vs Generic Options
The brand name versions of the PDE5 medications are generally more popular and better known than the generic versions. This is mainly due to the widespread marketing of branded drugs such as Viagra or Cialis. The company that invents a medication holds the patent and sole manufacturing rights for a certain amount of time. Other companies can challenge the patent or wait for it to expire to produce generic versions of the same medicine.
As a customer, you should know that despite the generic versions of medications being cheaper, they are the same as their branded counterparts; both will have similar dosage instructions and side effects.
The medication that you choose is up to you. Before you purchase an ED medication, consider all the pros and cons, and understand what you are hoping to get out of it. Whether Sildenafil, Tadalafil, Avanafil, or Vardenafil, all four are safe and have minimal side effects.
Before taking any ED medication, consult with your doctor. Do not take PDE5 medications if you are taking any alpha-blockers or nitrates. Combining the two can result in a dangerous drop in blood pressure. To get a safe and effective prescription of ED medication, inform your doctor of any medications you are taking and share your entire medical history.
---