UK Licensed & Regulated Pharmacy
MHRA Compliant Medication
Privacy Assured
Images Are For Illustration Purposes Only
Free shipping on all orders over £30
UK Licensed & Regulated Pharmacy
MHRA Compliant Medication
Privacy Assured
Images Are For Illustration Purposes Only
Free shipping on all orders over £30
Other Options Include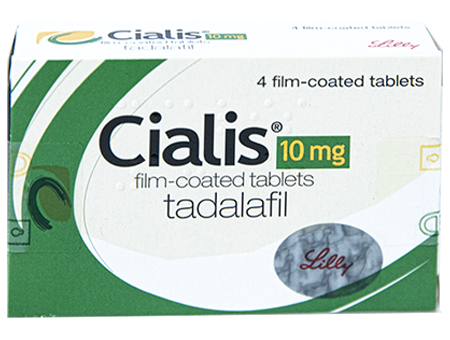 from £12.99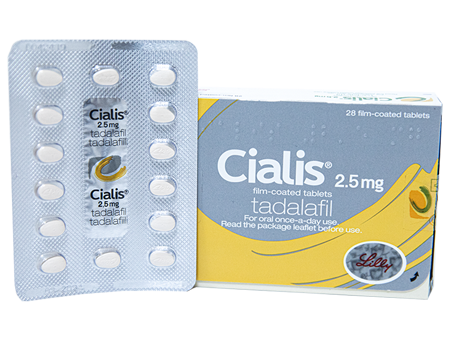 from £25.99
Cialis belongs to a class of drug known as phosphodiesterase-5 inhibitors (PDE5i). It is a type of drug that is used to treat erectile dysfunction and benign prostatic hyperplasia. It is available in four doses: 2.5 mg, 5 mg, 10 mg, and 20 mg. Although the doses of 2.5 mg and 5 mg are approved for daily usage in the treatment of ED, the 10 mg dose is yet the most commonly used dose. A consultation with a doctor is recommended to determine a suitable dosage.
How does Cialis work?
To properly understand how Cialis works towards treating ED, it's necessary to first understand how erections work. When there is an erotic stimulus (physical touch, erotic thoughts, sensual scents, etc.), local tissues emit nitric oxide (NO), which raises the quantity of a molecule called cyclic guanosine monophosphate (cGMP). cGMP relaxes the corpora cavernosa muscles on the sides of the penis, allowing blood to flow into the penis. At the same time, veins releasing blood from the penis become constricted, allowing more blood to become trapped in the penis, leading to an erection. Phosphodiesterase-5 is an enzyme that breaks down cGMP, causing the penis to revert to its flaccid state. PDE5 inhibitors, such as Cialis, inhibit this enzyme, resulting in increased amounts of cGMP and a better ability to get and maintain an erection.

Directions:
Cialis should be taken 30–60 minutes before sexual activity. Cialis is a long-acting medicine that can remain active in your body for up to 36 hours, which is why it is known as a "weekend pill". When Cialis is taken at least 2 hours before sex, some people have better results. Food does not affect Cialis absorption, so it can be taken with or without food.
Side Effects:
Some of the common side effects of Cialis are:
- Nausea
- Flushing
- Muscle pain
- A stuffy or runny nose
- An upset stomach
- Headache
If you experience any of these common side effects and they either persist or become worse, get it examined by a doctor. Moreover, if you experience any unforeseen side effects, you should still talk to a doctor.
In some rare cases, cialis can cause some severe side effects. These include:
- A sudden decline in hearing ability. This may surface in the form of Tinnitus (ringing in the ears) and/or dizziness
- A sudden loss of vision in one or both eyes. For example, one may experience non-arteritic anterior ischemic optic neuropathy, which is an eye condition that causes sudden vision loss in one or both eyes (NAION).
- An excessively prolonged erection (priapism). In such a case, the erection may last for several hours.
If you experience hearing or vision loss, or if your erection lasts for more than four hours, do not take Cialis any further and seek medical attention immediately.
Warnings:
You should not take Cialis if you:
Take nitrate medications. Nitrates are a type of drug used to treat high blood pressure (such as nitroglycerin).

Are allergic to Cialis or any of the ingredients in Cialis.

Take guanylate cyclase stimulators like Riociguat (Adempas).
To ensure that Cialis is safe for you, share your comprehensive medical history with the doctor. This may include telling if you have:
- History of a heart attack, or have an irregular heartbeat, angina, chest pain, aortic valve narrowing, or heart failure
- Pulmonary hypertension
- Had an erection that lasted longer than 4 hours
- Unregulated high blood pressure or low blood pressure
- Liver problem
- Blood cell disorders like sickle cell anaemia, multiple myeloma, or leukaemia
- Malformed penis
- Recently suffered a stroke
- Stomach or intestinal ulcers
- Any other medical issue
Also, tell your doctor about all of the medications you are taking, including prescriptions and over-the-counter medications, vitamins, and herbal supplements.
Cialis may impact the way other medications function and may result in adverse effects.
What is Cialis?
Cialis (tadalafil) is a prescription erectile dysfunction medication (ED). Cialis can assist men with ED in maintaining an erection. Eli Lilly and Company has been manufacturing Cialis since 2002.
How does Cialis work?
Cialis is a PDE5 inhibitor, like Levitra, Viagra and Avanafil. It works by expanding the blood vessels at the base of the penis to improve blood flow.
PDE5 is an enzyme that causes the blood channels of the penis to constrict, which restricts the flow of blood. Cialis aids in reversing this constriction.
How long does Cialis take to take effect?
Depending on the dose and how it is prescribed to you, Cialis can take anywhere between 30 minutes and 2 hours to start taking effect. Its effects tend to last for a duration of approximately 36-hours
Is Cialis safe?
Cialis has a good safety profile. However, if Cialis is combined with certain other drugs, it can become dangerous. Cialis should not be taken if you are on nitrates or other blood pressure drugs.
What dosage of Cialis should you take?
Your doctor will be able to assist you in determining the appropriate dose for you based on whether you previously used the medication and, if so, to what degree that dose had the desired benefits.
How often should you take Cialis?
Cialis should be taken only once in a 24 hour period. It stays active in the body for 24-36 hours, and hence Cialis is recommended for a moderated usage; usually 2-3 times per week.
What is a standard dose of Cialis?
If your doctor prescribes Cialis only as needed for ED, the usual starting dose is 10 mg before sexual activity. If the drug is performing too intensely, it may be lowered to 5 mg. Conversely, if the 10-mg Cialis dose isn't effective at treating ED, your doctor may increase the dosage to 20 mg. The maximum dosage for Cialis is20 mg per day.
Is it possible for Cialis to cause stomach pain?
Yes, Cialis can induce a stomach ache in some people. However, it tends to be mild. You can find further information about it in the Cialis package.
Is it safe to take Cialis with other medications?
Talk to your doctor to determine if there can be an interaction between any of your other medications and Cialis. Your doctor will also consider your medical history, including any past treatments you've received.
Is there a generic version on the market?
Yes, Tadalafil, the generic version of the medicine, became available on the market in 2018. It has the same active component as Cialis and, as a result, should perform similarly. Tadalafil can be manufactured by companies other than Lilly.
What if the Cialis dose you purchased isn't effective for treating ED?
If the prescribed dose isn't working, talk to your doctor about it. They may advise you to try a new dose or recommend alternative treatments.
Is it OK to eat or drink alcohol while taking Cialis?
Food does not usually alter the effectiveness of Tadalafil, unlike some other ED medications. However, drinking more than one or two units of alcohol while using Cialis is not recommended.
What are the side effects of Cialis?
Following are the most frequently reported side effects for people using Cialis:
Indigestion

Back pains

Muscle aches

Headaches

A runny nose

Facial flushing
Patients who experience an episode of back discomfort and/or muscle aches usually get it 12 to 24 hours after taking Cialis, and it normally subsides within 48 hours. A tiny proportion of Cialis users have visual problems.
Can Cialis be used with other treatments for ED?
The safety and efficacy of Cialis when used with other ED medications has not been evaluated. Combining the two medications could lower blood pressure to dangerously low levels and/or cause other serious health problems. Hence, using other ED drugs in conjunction with Cialis is not advised.