What is Viagra Connect?
08 September, 2021 | Raja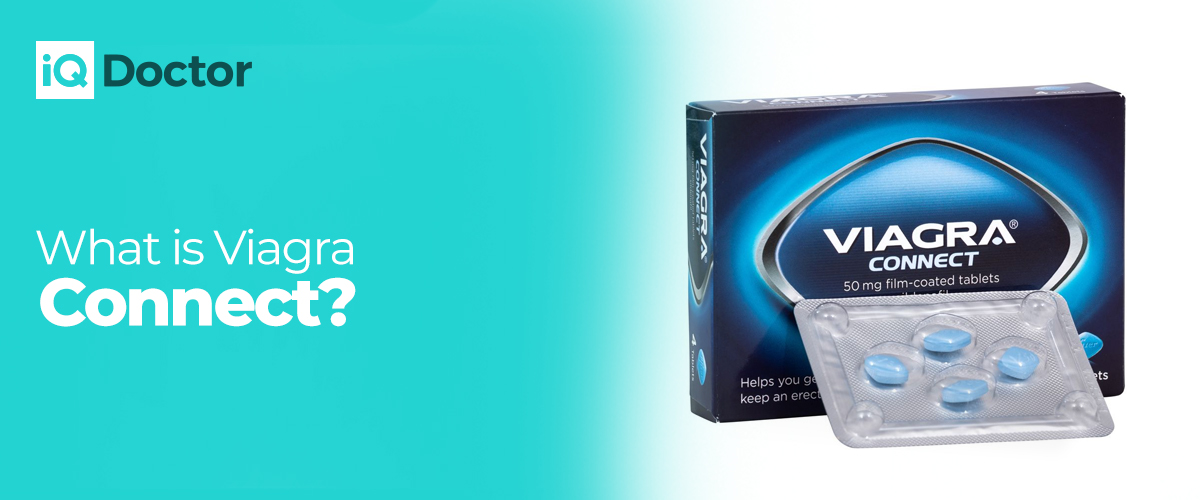 Viagra Connect is an over the counter medication for treating erectile dysfunction in adult men.
Pfizer produces both Viagra Connect and Viagra. The chemical composition of the two is the same, and they work in the same way.
Viagra Connect comes in the form of 50mg sildenafil citrate pills. In comparison, regular Viagra is only available by prescription and comes in greater (100mg) and lesser (25mg) doses.
Sildenafil, the main ingredient in Viagra Connect, relaxes the arteries in the penis, allowing for more blood. However, it only works when the penis is sexually stimulated. As a result, Viagra Connect will let you achieve and maintain a strong enough erection for intercourse.
The effects of Viagra Connect can last up to four hours. Thereafter, the liver breaks it down, and it is discharged through the faeces and urine.
Although not everyone experiences side effects, some people do. A headache is the most prevalent side effect of Viagra Connect, affecting about 1 in 10 men.
To know more details, read the Patient Information Leaflet that comes with the packaging of the medication.
The onset time (the time it takes to start taking effect) of Viagra Connect is 30–60 minutes. Viagra Connect helps maintain an erection for up to 4 hours after you take it, but you must be sexually stimulated for it to work.
Who can use Viagra Connect?
Viagra Connect is only for adult males over the age of 18 years. However, it is recommended if one has erectile dysfunction problems in their sex life.
The people who need to avoid taking Viagra Connect are; males under the age of 18, women of any age, or men who do not have any erectile dysfunction issues.
If you take any other medications regularly, talk to your doctor first before taking Viagra Connect. Some medicines have the potential of interacting with Viagra Connect and lessen its efficacy. Your doctor will be able to tell if it is safe to take Viagra Connect.
Also, discuss with your doctor any health issues you might have that might make it dangerous for you to take Viagra Connect.
How should Viagra Connect be taken?
Whenever you plan to take Viagra Connect, always follow the directions on the Patient Information Leaflet included in the package.
You should know that you may need to take Viagra Connect multiple times (a maximum of one 50 mg tablet per day) before achieving a satisfactory penile erection for sexual activity. If you still cannot achieve a satisfactory erection, you should consult with your doctor to treat your ED further.
How to take Viagra Connect
Take one tablet 1 hour before sex and swallow it with a glass of water.

Take no more than one pill in a day.

To achieve the best results, use Viagra Connect strictly as advised.
Warnings
To make sure that a severe health condition does not cause your erection problems, you should schedule a health checkup with your doctor as soon as possible after you start using Viagra Connect.
Erectile dysfunction can be a symptom of various medical conditions, including high blood pressure, cardiovascular disease, diabetes, and high levels of cholesterol.
Side Effects
Viagra Connect, like every other medication, can cause side effects, but not every person who takes Viagra Connect experiences them. Even if one does get side effects, they tend to be mild and last for a short duration.
However, some rare side effects should be cause for concern. If you experience any of the following, stop taking the medication and get medical assistance right away:
Chest pains before, during, or after sexual activity. If this happens, try to relax by sitting in a position with your legs up and at level with your chest. Nitrates should not be taken to relieve chest pains.

An erection that lasts longer than 4 hours and is occasionally painful.

Sudden deterioration or loss of vision after taking Viagra Connect.

An allergic reaction. This can be sudden wheezing, or dizziness, difficulty breathing, and swelling of the eyelids, face, neck, or lips.
How can you get the most out of Viagra Connect?
Viagra Connect takes typically 30–60 minutes to take effect, which is enough time to allow you to be ready when you need to be. Keep in mind that taking Viagra Connect will not give you an erection right away and will only work if you're sexually aroused. You and your partner should engage in foreplay about half an hour after you have taken Viagra Connect.
If foreplay does not instantly give you an erection, you need not worry. Viagra Connect works for up to 4 hours after you take it - it will continue to make your penis responsive to sexual stimulation throughout these 4 hours.
Remember to eat very little or not at all before taking Viagra Connect. You can take it with or without food. However, if you take it after a meal high in fat, such as a pizza or steak, it may take a little longer than usual to start working.
Don't panic or get disheartened if Viagra Connect doesn't work right away. Getting back into the habit of having an erection can take some time. Only take a tablet when you're ready to perform sexually. Don't take more than one tablet a day.
Why is it possible to get Viagra Connect without a prescription?
Because there is no need for a prescription, Viagra Connect is more convenient than ED therapy. In addition, the Medicines and Healthcare Products Regulatory Agency (MHRA) decided in November 2017 to reclassify 50mg coated Sildenafil tablets as a 'P medicine,' which means they can be obtained without a prescription. P medicines can only be given after a series of health questions have been answered to guarantee that they are safe to use. It was also expected that liberally distributing an ED remedy like Viagra Connect would reduce Viagra sales from unlicensed online "pharmacies."

---