Is there any difference between Viagra and Sildenafil?
20 September, 2021 | Raja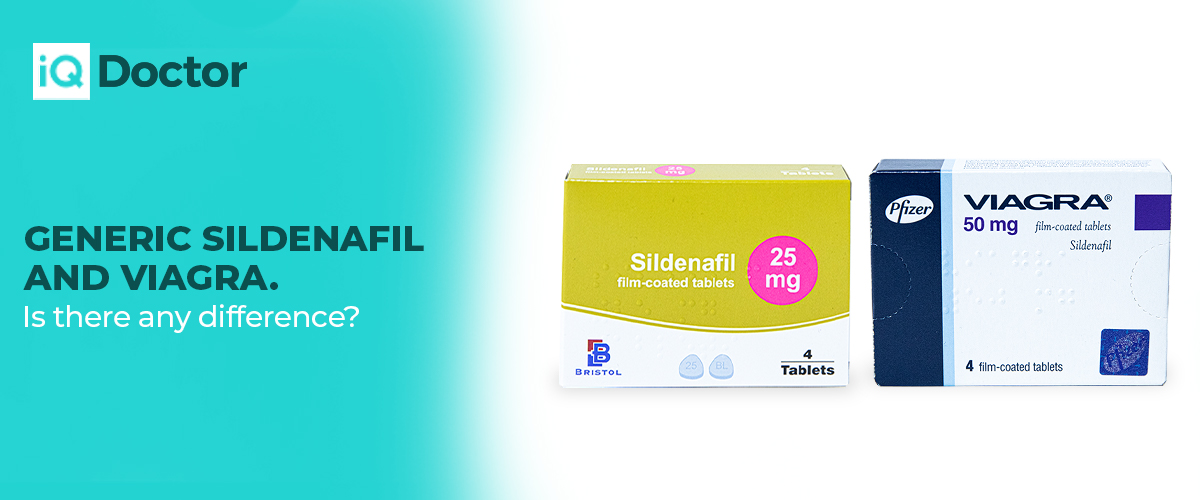 Viagra is a popular and frequently used medication for treating erectile dysfunction (ED). The brand name Viagra has the longest history of any FDA-approved ED medicine that is available in the market today.
If you have ever started looking up information about ED medications, you've probably come across Viagra and a substance called Sildenafil.
Although these two drugs have different names, they both contain the same active chemical component.
The difference between the two is that Viagra is a brand name medicine developed and marketed by Pfizer, whereas Sildenafil (or Sildenafil citrate) is the generic name for the active chemical component in Viagra that is used to treat erectile dysfunction.
Generic Sildenafil and Viagra. Is there any difference?
Generic Sildenafil and Viagra both work to treat ED by increasing blood flow to the penis, making it easier to achieve an erection and maintain it.
Sildenafil is the active ingredient in both generic Sildenafil and Viagra. The active ingredient in the two medications belongs to the phosphodiesterase-5 inhibitors, or PDE5 inhibitors, class of drugs.
Sildenafil works as a PDE5 inhibitor by relaxing the muscular tissue found inside the walls of your blood vessels, improving blood flow to various parts of your body.
It is commonly thought that medications such as Viagra and generic Sildenafil will make you hard on their own. However, this is not true, as these medications only work if one is sexually aroused and stimulated.
Sildenafil was discovered by accident while Pfizer chemists were looking for a treatment for high blood pressure. Initially appeared to be a viable treatment for angina (a type of chest discomfort because of its vasodilation effects. Still, the results were not substantial enough to warrant additional research along those lines. Sildenafil is still used sometimes to treat pulmonary arterial hypertension (PAH), a type of high blood pressure that can harm the lungs' arteries.
Pfizer patented Sildenafil in 1996. In 1998, the FDA approved the new pharmaceutical brand medication for treating ED, which came to be known as Viagra. Initially, it went on sale as a prescription medication that doctors would prescribe to men to treat erectile dysfunction.
Viagra became very popular as the first oral treatment for erectile dysfunction. It became popularly known as the "little blue pill". Many marketing campaigns made it a drug that almost everyone knew about as a treatment for ED in pill form.
Pfizer's Viagra patent for nations outside of the United States expired in 2012. This allowed other companies to develop and market generic Viagra medications that contained Sildenafil.
Sildenafil is now widely available as a generic medication manufactured and marketed by a variety of companies. Many companies sell Sildenafil under a different and unique brand name, but many companies sell it as 'Sildenafil'.


Is there a difference in the dosage for Viagra and Sildenafil?
Sildenafil is now available in several different dosages and forms. It's most typically sold as a tablet in doses of 20 mg, 25 mg, 50 mg, or 100 mg. However, it is also sold as a liquid solution in the United States.
If you're prescribed Viagra or generic Sildenafil, your doctor will tell you to follow a precise dose.
Since brand name Viagra and generic Sildenafil contain the same active component, a 25mg-100mg dose of Viagra (the average amount for erectile dysfunction) and the same dose of generic Sildenafil should produce the same results.
What are the side effects?
Nasal congestion, indigestion, low blood pressure, back pain, migraines, facial flushing, and sudden loss of hearing or vision are a few possible side effects of taking Viagra or generic Sildenafil.
They can both cause priapism, a prolonged and painful erection that can last for up to four hours.
If you are considering taking either of these medications to treat your ED, it is advised that you first talk to your doctor to determine if it is safe for you based on your health and medical history.
Should Viagra and generic Sildenafil be taken with or without food?
Both Viagra and generic Sildenafil function best when consumed one hour before any sexual activity. It can be taken with or without food, although it is recommended to avoid taking Viagra with a big meal.
What should you do if Viagra or generic Sildenafil does not work for your ED?
If you don't see any improvement in your erectile function after taking Viagra or generic Sildenafil, do not increase the dose, hoping to get different results.
If the two medications continue not to impact, stop the intake and discuss the possible options for alternative medications/treatments with your doctor.
Viagra or generic Sildenafil, which one is right for you?
As noted above, both Viagra and Generic Sildenafil contain the same active ingredient, and hence both work in the same way to treat erectile dysfunction.
Off-label Sildenafil can cost as low as £1 per pill, whereas branded Viagra can cost up to £6 per pill. A doctor can assist you in determining the dose of either drug that you should take.
---