Other Options Include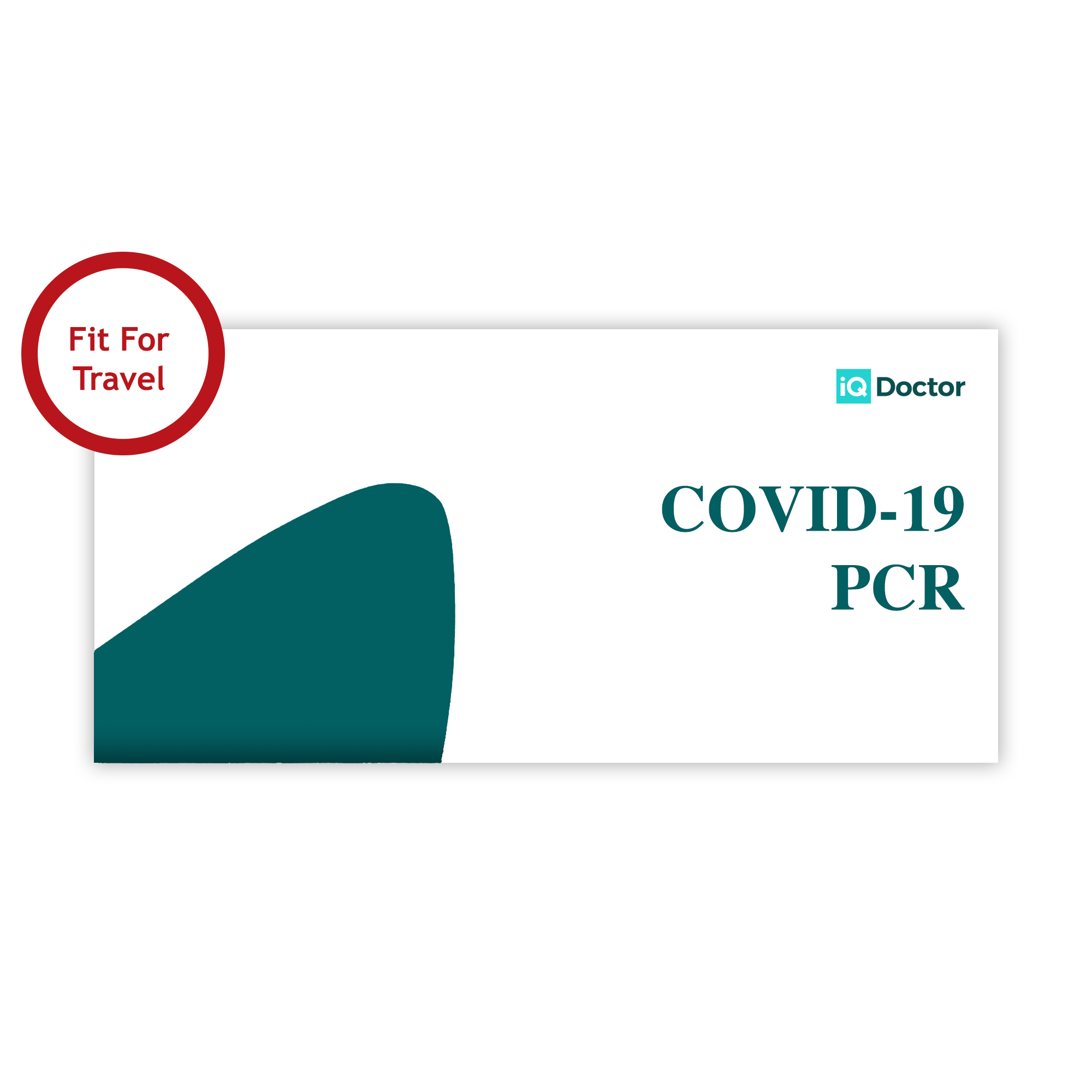 from £74.00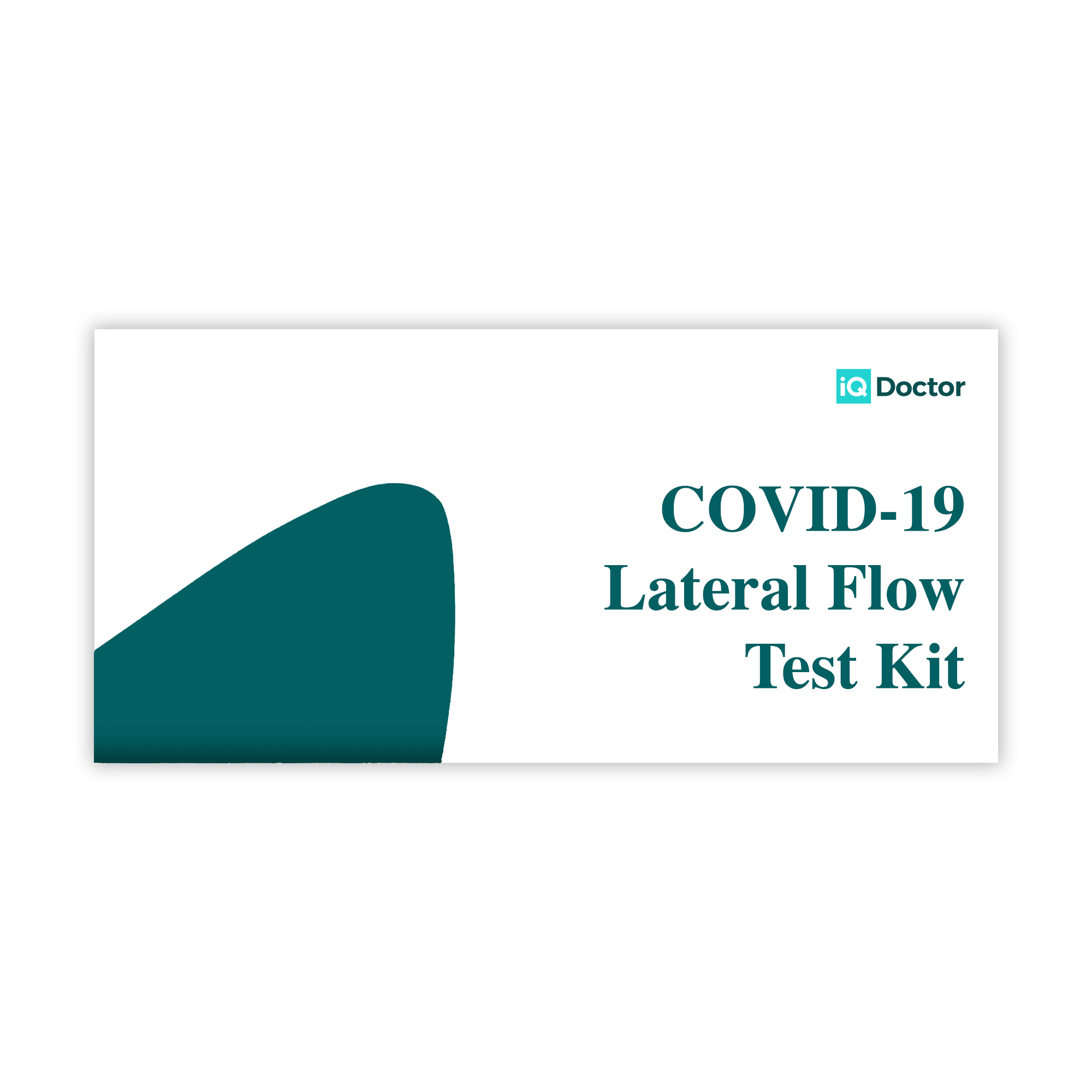 from £19.99
How to Use?
---
RT-PCR Test Booking Process In Simple Steps:
---
Product Information:
A PCR test is used to detect the virus's genetic material in your body. This test is used to diagnose the active coronavirus infection. By detecting the presence of viral RNA, the test can tell whether or not the person has contacted the virus very early on. This test is usually highly accurate and does not need to be repeated. It is done through a nasal and throat swab sample.
Our pioneering test for COVID-19 utilises PCR (polymerase chain reaction) to accurately and reliably diagnose COVID-19, thus facilitating appropriate containment and reducing further spread of disease.
---
What is a RT-PCR TEST With a Fit to Fly Certificate?
This test kit is suitable to be used by people who intend to travel and need a negative test report. A Fit to Fly certificate is included in this kit and is generated automatically once the test comes out as negative.
The Fit to Fly certificate includes your name, date of the results, passport number, date of birth, name of the test, and your test result among other details that can be presented to authorities. It is signed by our lab's specialist.
FAQ
Where does your fulfillment take place?
All orders are fulfilled by our designated Covid 19 testing team from our local fulfillment centre in Birmingham. To meet the demand of the epidemic and to ensure that staff and procedures remain safe we have had to separate this from the day-to-day running of our pharmacy. This ensures that all COVID orders can be prioritised by our dedicated team members ensuring you get your order on time.
How does it work?
PCR is short for "polymerase chain reaction"; it is a well established technique and has a high level of accuracy if performed by a trained laboratory professional. In simple terms the process of PCR is to gather small trace amounts of DNA and replicate them. Researchers studying the Novel COVID 19 virus have extracted hundreds of different genome sequences that help identify the presence of COVID 19. The COVID19 virus has RNA as its genetic material rather than DNA. A method called "reverse transcription" (RT) is used to convert the RNA into its complementary DNA which can then be replicated. This is why the PCR test should strictly be called the RT-PCR test. Once the sample is taken the Lab will remove all unnecessary components stripping the sample down to the essential genetic material. Once the RT-PCR process has been completed, due to the replication process, it will be easy to ascertain the presence or absence of COVID 19.
What does this test tell me?
The PCR test will tell you whether or not you are currently infected with COVID19 as it detects the amount of viral RNA (antigen) present in the sample. PCR tests give us a good indication as to who is infected and allows companies, business and other commercial institutions to determine who is safe to work as well as determining who needs to remain at home in quarantine. PCR tests can also be ordered by individuals to determine if family members are safe to visit (alongside government guidelines). It is used as a method for airlines to determine those passengers that are "fit to fly". Those who require a "fit to fly" certificate will receive one if results are negative, It can also be used to determine if a person is fit to work.
Where will the test be carried out?
The PCR test is a home test kit that will be sent to any given UK address via the post. The test will be taken at the comfort of your own home and can be performed by any consenting adult. Most UK addresses (with the exception of the Scottish Highlands) will be able to receive the test within 1 working day.
Does this test involve a nose and throat swab?
Yes. This test requires a throat and nose swab.
How long does it take to get results?
We aim to ensure results within 12 to 48 hours of receiving your test kit at our labs. There are other time restraints that should be factored in as well. It will take 1 working day for you to receive your test kit. It will then take another working day to get your sample from your house to the lab using an express delivery. We advise all our customers to ensure their plans are based around the maximum turnaround time to avoid any logistical delays. We can not be held liable for any delays caused by our courier services.
How do I take the test once I receive it?
Sample: Swab the back of your throat for 1 minute
Send: Return your sample to our Lab using a Royal Mail priority postbox.
Register: Assign your unique barcode to your name either on the day you send it or the day after (depending on your COVID window)
What does a positive result mean?
A positive result would indicate that you are currently infected with SARS-CoV-2 and are potentially infectious. You will need to isolate/ quarantine yourself according to government and NHS guidelines.
Will this test tell me if I have previously had COVID 19?
No, this test is a PCR test and as a result it will only indicate current infections. To ascertain past infections of previous exposure you can try our antibody test.
---
COVID-19 Products for Business
Looking to purchase a large quantity of PCR Kits?
Click Here
---
More Information
Whether you need to get tested for travel, or peace of mind, our Corona Virus home test kit is a fast and convenient way to get tested from the comfort of your own home, with a quick turnaround time for results. All results are sent to you straight from our approved UKAS lab and are suitable to prove eligibility to travel. Our staff at IQ doctor are here to guide you every step of the way and offer a highly personalised and bespoke advisory service at no extra charge. We specialise in assisting those with time-sensitive deadlines for receiving results.
Coronaviruses are a large family of viruses that can cause illness. There are several types such as Severe Acute Respiratory Syndrome (SARS). The most recently discovered Coronavirus variant is COVID-19 which is an infectious disease causing a global outbreak.
The most common symptoms of COVID-19 are fever, dry cough, and tiredness. Other symptoms have also been reported such as aches and pains, nasal congestion, sore throat, diarrhea, and headache. Others carry the virus but do not realize that they do as they have no symptoms at all. This is worrying as it could be passed on to others especially the elderly and the vulnerable without that person's knowledge.
COVID-19 symptoms can take up to 2 weeks to manifest in infected patients, so it Is important to provide a quick and accurate way to provide testing for those who have come into contact with the virus. National advice is to stay indoors unless absolutely necessary and to quarantine yourself if you or a family member is showing viral symptoms. This makes it increasingly difficult to test yourself without putting frontline health workers at risk.
Due to the difficulty, the NHS is having in organising testing for front line workers and the general public, IQ doctor is now offering mail order Coronavirus (COVID-19) testing kits which offers a simple self-testing solution you can use at home.
By getting your kit from IQ doctor you will have access to a dedicated team of healthcare professionals able to provide you with advice and assistance throughout the process. Test kits are posted out on a next working day service and are processed on a first-come, first-served basis. How it works Our test kits are posted to you via next day delivery.
Once you receive your test kit all you need to do is provide a swab sample from the throat, and post it to our lab.
Our lab aims to process your sample and provide us with the results within 12-48hrs based on current turnaround times. Your results will then be emailed to you. A free fit to fly certificate is also included if required. Coordination with the NHS Positive COVID-19 results will be shared with Public Health England to allow this notifiable disease to be tracked.
If you test positive, we will provide advice on what to do next and how to engage with the NHS. Our lab We work with a world-leading UKAS approved British laboratory to process your results.
As the coronavirus epidemic continues to affect our day to day lives, many countries have made tentative steps to reopen their borders to the world for essential travel. Flights from the UK to many destinations have resumed, although with restrictions in many cases. In many cases, international travelers are replied to provide negative COVID-19 PCR results in order to qualify for travel with required test time ranging from between 48 hours to 7 days before travel. IQ doctor provides COVID-19 PCR swab tests for home use which can be used to prove eligibility for travel.
Results are emailed to patients, usually within 24 hours of our lab receiving your sample in PDF format. Results can be printed and shown to the relevant parties prior to travel. Before you travel, confirm if your destination country has restrictions. You can do this by checking gov.uk or the destination countries' webpage. If you require a COVID PCR test result before travel, you can order a home sample collection kit from IQ Doctor.