High Blood Pressure and Erectile Dysfunction (ED)
13 September, 2021 | Raja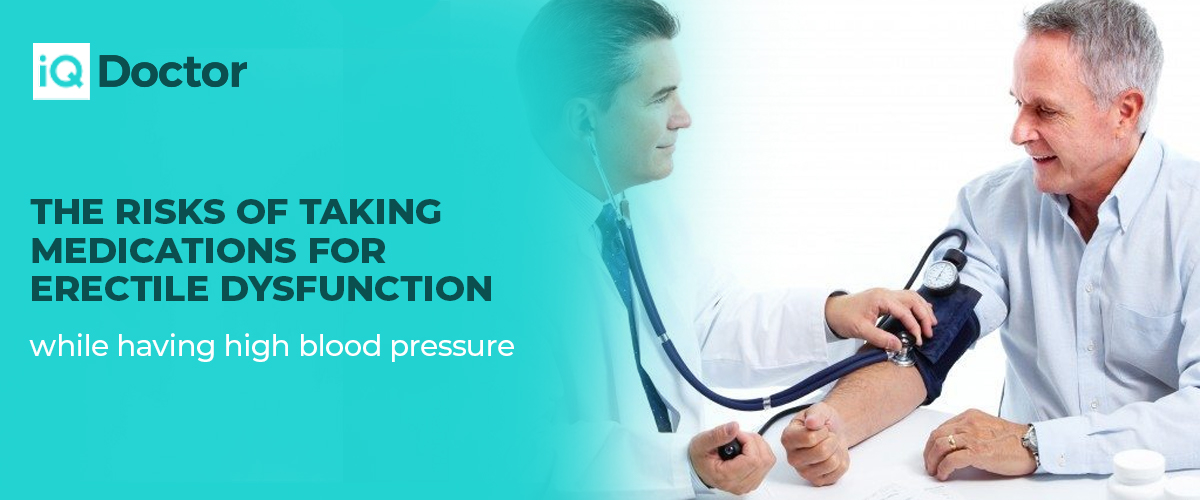 Erectile dysfunction (ED) can result from high blood pressure, sometimes known as hypertension. Some of the drugs used to treat high blood pressure can also lead to ED. According to one study, over 30% of men with high blood pressure also have ED. This relation between medications for blood pressure and ED is why many men want to find a medicine that manages high blood pressure without inducing ED.
The risks of taking medications for erectile dysfunction while having high blood pressure
Men who are seeking erectile dysfunction drugs should consult their doctors first. Vardenafil (Levitra), Sildenafil (Viagra), and tadalafil (Cialis) are some of the most commonly used medications for treating erectile dysfunction. ED medications are typically regarded as safe to take for men with high blood pressure who are otherwise healthy.
Men with severe cardiovascular disease or high blood pressure should avoid erectile dysfunction medicines. It is strongly recommended to never combine erectile dysfunction medications with nitrates, a type of medication used to treat pain in the chest. It is also important to know that taking ED medications could result in dangerously low blood pressure for people with high blood pressure.
The link between ED and high blood pressure
The arteries in the body are damaged by high blood pressure. High blood pressure causes the arteries to become narrower and less flexible over time, and the blood flow is reduced as a result, which increases the risk of having a heart attack or a stroke. Moreover, it also impairs the blood to the penis, which results in ED.
High blood pressure and sexual health problems for women
The impact of high blood pressure on sexual issues for women is not fully understood at the current time. However, high blood pressure can have a potentially negative effect on women's sexual health.
High blood pressure can limit blood flow to the vagina and lower the amount of nitric oxide, a chemical that helps muscles relax. This may cause symptoms such as:
Dryness of the vaginal canal

Orgasm is difficult to achieve.

A lowered sex drive or reduced arousals
Women, like men, might experience anxiety and relationship problems as a result of sexual health problems. If a woman has any such issues or concerns, she should speak with her doctor to get personalised advice on treating this problem.
The link between blood pressure medications and ED
Some blood pressure medications may cause erectile dysfunction. You can talk to your doctor about which high blood pressure drugs are more likely to induce erectile dysfunction as a side effect and thus opt for alternatives.
Which blood pressure medications have ED as a possible side effect?
There are two types of medications that are more likely to cause ED as a side effect. These are diuretics and beta-blockers.
Diuretics
Diuretics can reduce the amount of blood that can reach the penis. This makes it harder to get an erection. Diuretics are also known to lower the level of zinc in the body, leading to a reduction in the amount of testosterone and a subsequent reduction in sex drive.
Beta-blockers
Beta-blockers are commonly used as a treatment for migraines. However, these medications also target the part of the nervous system that regulates erections. As a result, it may restrict blood flow to the penis.
Following commonly prescribed beta-blockers:
atenolol

carvedilol

metoprolol
Some other blood pressure medications with less frequent cases of ED include:
alpha-blockers

calcium channel blockers

angiotensin-converting enzyme inhibitors

angiotensin II receptor blockers


If you have high blood pressure and ED
The best course of action would be to consult your doctor and get proper medical advice that is tailored to your health and medical history. Only a doctor can tell you if it is safe for you to take ED medications or some other treatment is better suited.
---