Other Options Include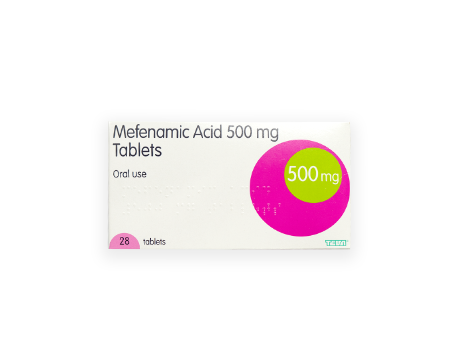 from £18.50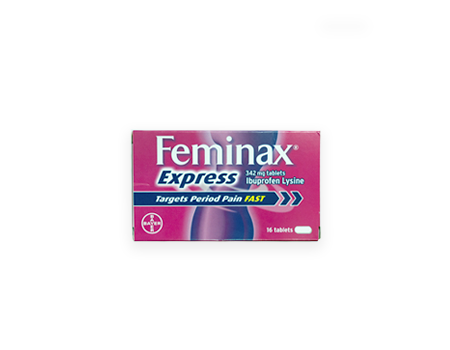 from £4.49
What are period pains?
Period pains are quite common, and women may experience them during their menstrual cycle. These pains normally include uncomfortable muscle cramps in your stomach and can also be felt on your back and thighs. Period pains may vary from mild to constant intense contractions.If the pains are felt constantly and cause discomfort, medication can be taken to reduce the pain and cramps.
What is Feminax Express?
Feminax express is a medication designed to help alleviate menstrual cramps and discomfort. The medication contains ibuprofen Lysine which is a fast acting form of ibuprofen that has anti-inflammatory properties. These properties help reduce the inflammation that may lead to the pain and discomfort many women experience during their monthly cycle.
How does Feminax express work?
The active ingredient in Feminax express is Ibuprofen. It works by targeting the immediate area in which the pain is experienced rather than taking effect on the central nervous system, making it an excellent choice for reducing the pain caused by swelling from muscle cramps during menstruation.
How do I take a Feminax express?
The standard dose for Feminax is 1 tablet to be taken every 8 hours. It's always best to use the lowest dose possible to manage your symptoms. If you do not feel relief from the pain after 3 days use then consult your physician.
---
FAQ's
What Are the Advantages of Feminax?
In comparison to ibuprofen, Feminax Express includes ibuprofen lysine, which is more easily absorbed by the body. It relieves pain from a variety of diseases, including headaches, tendinitis, muscular pains, menstrual cramps, and tooth pain.
What is the best way to use Feminax?
Before you start taking Feminax, check the medication guide or patient information sheet that comes with the product packaging. If you have additional questions regarding the medication's usage or effectiveness, talk to your doctor or pharmacist.
Feminax should be taken with a full glass of water with or after a meal. Alternatively if appropriate, to avoid an upset stomach, you can take an antacid such as omeprazole alongside Feminax.
How Can I Buy Feminax Online the right way?
You may buy Feminax online without a prescription if you are over the age of 18 years. Please make sure you have spoken to a doctor or pharmacist to ensure that this medication is suitable for you before you purchase.
What happens if I take a Feminax dosage that has expired?
Before any medication is dispatched it is thoroughly checked including the expiration date so this will not be the case. Even still It is unlikely that a single dose of expired Feminax would produce any negative effects. However, if you are feeling uncomfortable or sick, please consult your doctor or pharmacist. A drug that has expired may no longer be effective in treating the conditions for which it was given.
When should I avoid using Feminax?
Do not take Feminax if you:
Are Pregnant, intending to become pregnant or you are breastfeeding
Have, or previously had, a stomach ulcer, perforation, or bleeding.
Have an allergic reaction to ibuprofen or any other ingredient of the drug, aspirin, or pain relievers.
Have kidney, heart or liver failure/dysfunction
Are using any additional nonsteroidal anti-inflammatory drugs (NSAIDs) or aspirin in a dose of more than 75 milligrams per day?
For further precautions please read the patient information leaflet before purchasing this medication
Is it safe for me to use mefenamic acid while breastfeeding?
Mefenamic acid should not be taken when nursing. Trace amounts of mefenamic acid may enter the breast milk and affect the nursing child. Therefore, manufacturers advise avoiding mefenamic acid whilst breastfeeding.
Is it okay for me to use mefenamic acid while on the pill?
Yes, using your birth control pill while taking mefenamic acid is perfectly safe. Additionally, combined contraception drugs (which include both progesterone and oestrogen) might also assist with unpleasant and heavy periods, so consult your doctor and discuss the options of switching to a combined contraception drug.
Is it okay for me to drink while taking mefenamic acid?
You should avoid drinking if you're on mefenamic acid. When you drink alcohol, mefenamic acid may interact with it, causing stomach pain and other adverse effects. It can also increase the risk of bleeding in your stomach or intestines under certain circumstances.
What are the side effects of Feminax express?
Medicines and their possible side effects can affect individual people in different ways. Below are some common side effects:
Feeling sick (nausea), indigestion or abdominal pain
Headache
Skin rashes
Some rarely occurring side effects are
Diarrhoea
Constipation
Vomiting
Wind (flatulence).
Other more serious side effects can occur, In which case you should immediately stop taking Feminax and go to a hospital.
Some individuals can suffer from allergic reactions such as severe skin rashes, swollen lips, tongue and throat (angioedema) or narrowing of the airways.
Bleeding or ulceration in the stomach or intestine
The sensation of spinning (vertigo)
Ringing or other noise in the ears (tinnitus)
Visual disturbances
Problems with your kidneys, liver or blood cells
Retention of water in the body tissues (fluid retention), resulting in swelling (oedema)
Increased blood pressure (hypertension)
Heart Failure