UK Licensed & Regulated Pharmacy
MHRA Compliant Medication
Privacy Assured
Images Are For Illustration Purposes Only
Free shipping on all orders over £30
UK Licensed & Regulated Pharmacy
MHRA Compliant Medication
Privacy Assured
Images Are For Illustration Purposes Only
Free shipping on all orders over £30
Other Options Include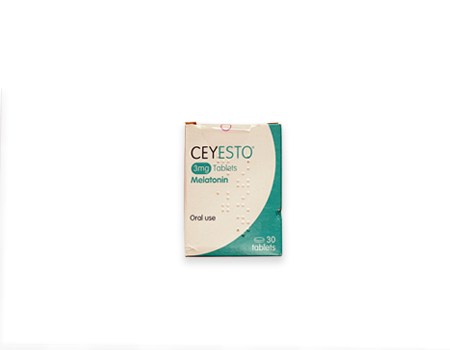 from £20.99
Ceyesto is a new Treatment licensed for the management of jet lag which is available via IQ Doctor's online clinic. The medication contains the active ingredient Melatonin which mimics a naturally produced hormone in your body that regulates healthy sleeping patterns.
How do I take this medication?
The recommended dose is one 3 mg tablet daily for a maximum of 4 days. The first dose should be taken on arrival at your destination at your usual bedtime (local time). The dose on the following days should also be at your usual bedtime.
The dose that adequately alleviates symptoms should be taken for the shortest period. On re-synchronisation following jet-lag, Ceyesto should not be taken before 20:00 hr or after 04:00 hr at destination. Treatment is available in quantities of 30 tablets (suitable for treating at least 6 episodes of jet lag).
Tablets should be swallowed with a glass of water. It is recommended that food is not consumed approximately 2 hours before or 2 hours after Ceyesto intake. Alcohol should be avoided whilst using this medication. Consult a doctor if the symptoms do not improve within 6 days or if they get worse. If you have any further questions on the use of this medicine, ask your doctor or pharmacist.
Can I manage Jet lag without medication?
It is possible to manage Jet lag without the use of medication and alternative methods should be tried before initiation of this medication, such as:
Minimizing any stressors prior to, during, and after travel that contribute to travel fatigue.

For short travel stays, consider continuing activities such as sleeping and eating on 'home time'.

For longer travel stays, advising to maximize pre-flight sleep; considering shifting bedtimes before travel to be in line with the destination; adopting the destination time schedule in-flight.

During the flight, advising to eat light meals, maintain hydration, limit alcohol consumption, and sleep as much as possible.

At the destination, advising to maximize sleep, take naps when sleepy, and get timely exposure to light and darkness.
Like with all medications Ceyesto may cause adverse effects to some people. The most common potential adverse reactions in short-term use for jet lag are headache, nausea, loss of appetite, dizziness, daytime sleepiness, and disorientation. Rarely Ceyesto can cause other serious side effects that means you must stop treatment and contact your doctor immediately; these can be found on the patient information leaflet provided.
https://www.medicines.org.uk/emc/files/pil.12815.pdf
Smoking and alcohol
Smoking may make Cyesto less effective as the products found in tobacco may increase the breakdown of melatonin.
Do not drink alcohol before, during or after taking ceyesto as it may reduce the effect of ceyesto and worsen the effects of jet lag.
Seizures
Melatonin may increase the frequency of seizures so patients with neurological defects are advised to avoid use.
Drowsiness
Melatonin may cause drowsiness so caution should be taken if the effects of drowsiness are associated with a risk to your safety
Autoimmune disorders
No clinical data is available for the use of Ceyesto in autoimmune disorders therefore melatonin is not recommended for use in autoimmune conditions.
Liver and kidneys
Ceyesto should not be used with patients who have liver (hepatic) or kidney (renal) impairment.
Cardiovascular conditions
Ceyesto is not recommended for use in patients who have had previous cardiovascular issues and are currently taking antihypertensive medications as it may cause adverse effects. It is unclear if these effects are due to melatonin itself or drug induced interactions.
Anticoagulants
Caution is advised when using melatonin alongside anticoagulants such as warfarin and other novel anticoagulants as it can enhance the effect of these drugs and increase the risk of bleeding.
Pregnancy & Lactation
Ceyesto is not recommended in pregnant and lactating women or women intending to become pregnant.