Other Options Include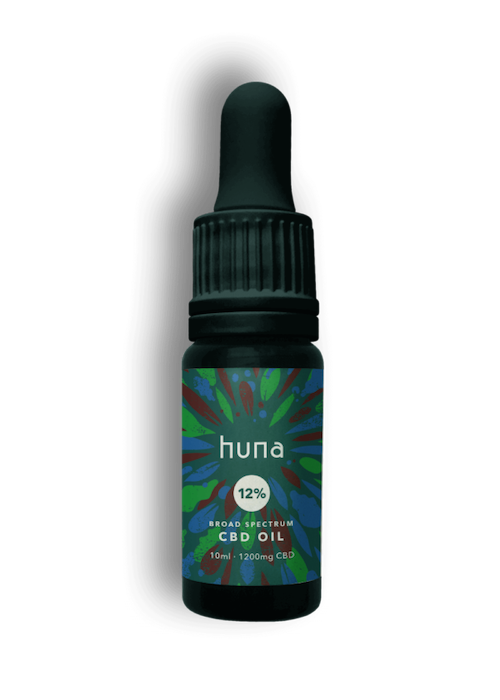 from £49.95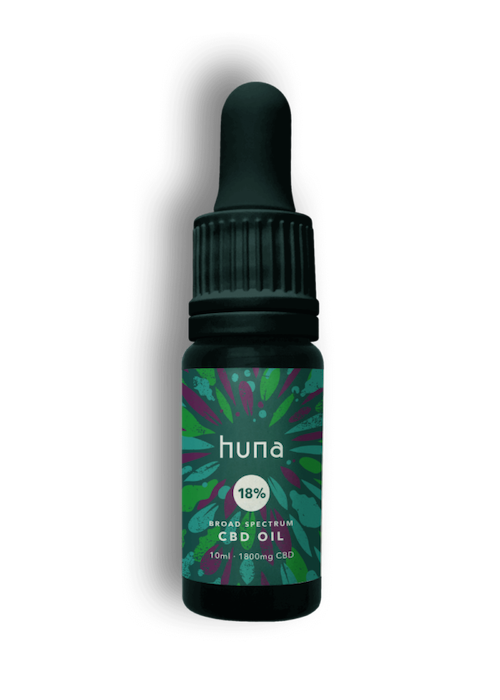 from £69.95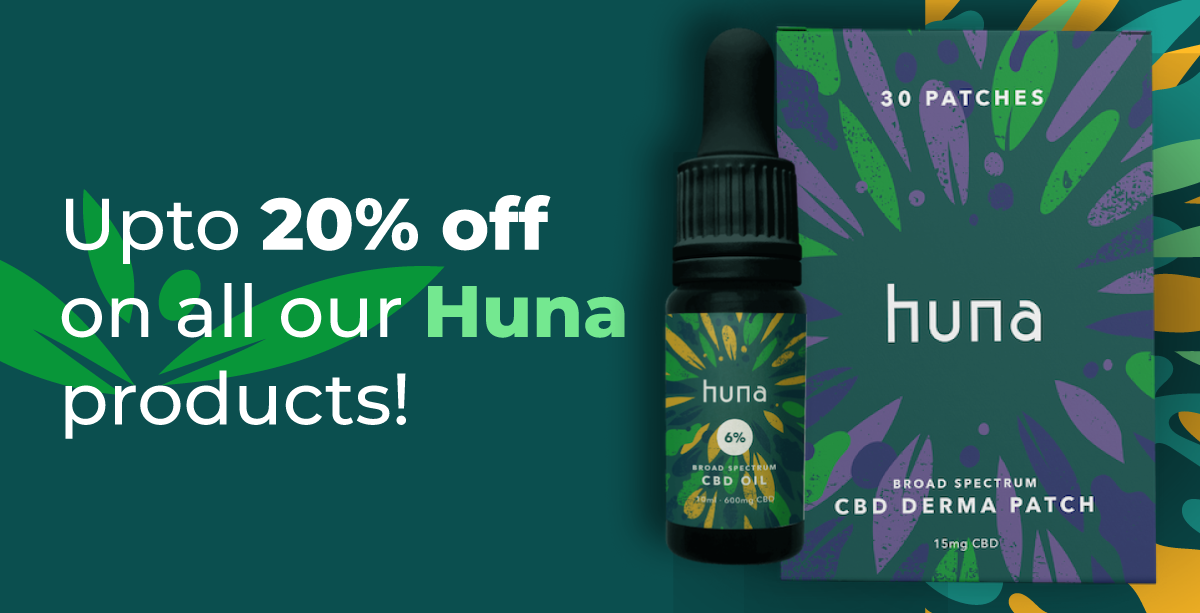 Why Choose?
Award Winning
Voted Best Overall Product at the Voxpo CBD Live Awards 2020.

Broad Spectrum Quality
Crafted with high quality CBD to give you all the soothing benefits with no unwanted side effects.
Made From Nature
Exceptional high quality ingredients all sourced from nature to give you a helping hand.
---
Reviews
Throughout the day I felt positive and calm… [the] patches helped ease muscle aches and pains. I would highly recommend this product! - Rated 9/10 and 4th best CBD product of 2020 by BestBuds420.co.uk We love Huna CBD Derma Patches as they are made from top quality hemp grown on the family farms in Croatia and the Czech Republic, renowned for their fertile soils and abundant summer sunshine. The company takes advantage of the excellent natural conditions and yields a 100% organic hemp extract. We also love Huna Derma patches for the excellent deal of 30 CBD patches in one package. The number of patches is sufficient to carry customers through the month when used reasonably. - AlphaGreen.io
---
Ingredients:
Acrylates Copolymer, Aqua (Water), Cannabis sativa L. extract providing 10mg CBD per patch, Polysorbate 20, Phenoxyethanol, Vanillyl Butyl Ether
---
How to Use:
Make sure your skin is clean, dry and hair free
Peel off the patch and apply side with adhesive to the affected area
Allow the patch to infuse into your skin
Replace patch after 24 hours
For easier removal, wash with warm water and soap when bathing
---
Additional Information:
For external use only
Take extra caution to avoid your face, neck and genital areas
We recommend using one patch a day
Do not use more than 5 patches in any 24-hour period
Wash with warm water and soap to clean off any additional residue or adhesive
Replace patch after 24 hours
This product is not intended to diagnose, treat, cure or prevent any disease
---
ABOUT US
We have the highest standards!
Integrity is built from the inside. We don't take short-cuts. We abide by, and often exceed the guidelines. We're members of the Cannabis Trade Association and The British Hemp Association. All our products are created and tested to the highest standards. We don't make claims that cannot be substantiated. What's on the label is what's in the bottle, every time.
We respect our powerful planet
Our farms are family run, and our crops grow naturally under the summer sun. In addition, we strive to use 100% natural ingredients in our products where possible. We attempt to minimise waste and we use recycled or recyclable materials where-ever we can. We're not perfect yet, but we're exploring better options all the time.
We strive to innovate
We aspire to create the freshest, most interesting and innovative CBD products on the market. We want to create connections not just sell products, we listen to our customers and involve them in all aspects of Huna.
---
FAQ
What is CBD?
CBD stands for cannabidiol. CBD is a natural compound found in the Cannabis sativa L. plant – hemp being a fast-growing strain. CBD is associated with the wellbeing properties of the plant – it isn't addictive, and you can't get high. Unlike tetrahydrocannabinol (THC), which is the psychoactive component of the plant. THC gets left behind during CBD extraction and purification processes.
What is CBD used for?
A recent survey by HelloMD and the Brightfield group (2017) shows people in the UK take CBD for: anxiety, insomnia, joint pain, inflammation, depression, muscle tension or strain, severe or chronic pain, migraines, arthritis, nausea and post-traumatic stress disorder (PTSD).
What does 'broad spectrum CBD' mean?
Broad-spectrum CBD is one of the three main forms of cannabidiol (CBD). The others are full-spectrum CBD and CBD isolate. Broad-spectrum CBD contains a range of naturally occurring compounds from the cannabis plant, but typically no tetrahydrocannabinol (THC), making it non-psychoactive. Broad-spectrum CBD may also produce better effects as it contains additional compounds that work together as compared to CBD isolates; so you get all the benefits without the unwanted side effects.
Will Huna CBD treat my condition?
All Huna products are sold as food supplements to support everyday wellbeing. They are not intended to diagnose, treat, cure or prevent any disease.
Can I get high from CBD?
Not a chance! CBD is not psychoactive. THC, the psychoactive compound also found in hemp (excluded from broad spectrum CBD during extraction) is associated with the high. THC is regulated by the UK government and the legal THC limit in CBD is a very small <0.1%. We keep Huna CBD well under 0.1%. However, CBD products may make you feel calmer and more relaxed.
Will CBD give me the munchies?
No! CBD has no psychoactive effect so will not affect your appetite.
Can I overdose on CBD?
Initial research shows CBD is safe in high doses. However, if you take too much there is a chance of negative side-effects, such as drowsiness. We recommend starting with a low dose and gradually working up to a level that's effective for you. You only need a little every day to support your general wellbeing.
Will CBD interact with my medication?
You should consult with your doctor prior to taking any new supplements or medications to ensure there are no conflicts in there that affect your system.
Why is CBD such big news?
CBD only took off in the 1940s. It's hard to say exactly why CBD's big moment is right now. But in a scientific nutshell, CBD interacts with our endocannabinoid system (ECS) which is a network of receptors in our nervous system. The ECS is known to play a role in bodily functions such as mood, pain and sleep cycle.
Is Huna CBD lab tested?
All Huna products come with a certificate of analysis to ensure we are creating high-quality products within the legal framework. We also validate all of our products with third party labs to ensure purity and consistency. You can read test results for every Huna product on our shop page.
What makes Huna CBD different?
Our 100% natural CBD products are produced from hemp plants grown in the great outdoors, under the summer sunshine in Croatia and the Czech Republic. Our plants receive expert care and attention from our farmers and blenders. We use a supercritical CO2 extraction method, which means we have great control over the purity of our cannabinoids. We're proud to say our Huna CBD is of exceptional quality.
What does full-spectrum CBD mean?
Full spectrum means that a CBD product contains all the cannabinoids that are found in the hemp plant in nature (apart from the psychoactive element THC). Full spectrum products are associated with quality and increased effectiveness due to the different cannabinoids working synergistically.
Why is the colour of my drops different this time?
We use 100% natural CBD from our Huna hemp plants. The colour pigment can vary from plant to plant – so sometimes there is a colour difference between batches. Rest assured, our meticulous extraction process ensures exactly the same strength, quality and purity of CBD every time.
Legal info
Is CBD legal?
CBD is legal in the UK if it has a THC content of below 0.02%. THC is a controlled substance under the Misuse of Drugs Act 1971. In the UK CBD is required to be derived from one of the 63 industrial-grade hemp strains that are EU approved. Regulations by the EU govern the sale of CBD in most European countries. However, these countries are allowed to make their own interpretations of the regulations as well as level of punishment, so you need to check each country's stance on CBD before you make a purchase. Naturally, Huna completely complies with all regulations set by the UK and EU governing bodies.
Are Huna products under the legal THC level?
Yes, absolutely. We keep the THC level in our CBD well under the legal limit of 0.1%.
Can I travel with CBD?
In many countries it's now legal to have CBD with under 0.1% THC. Our CBD is guaranteed to be under 0.1% THC. However, some countries have much stricter regulations, so you should always check with the relevant authorities. The hard rule is that if you are unsure about the legislation in a certain country, then opt to be safe and don't travel with CBD.
Is CBD legal in sport?
Yes, the use of CBD products that comply with EU regulations are legal in sport. In 2018, the World Anti-Doping Agency (WADA) introduced an exception to Section 8 of the Prohibited List (cannabinoids), which permits athletes to consume CBD both in and out of competition.