Lateral Flow Test: What are its uses?
15 November, 2021 | Raja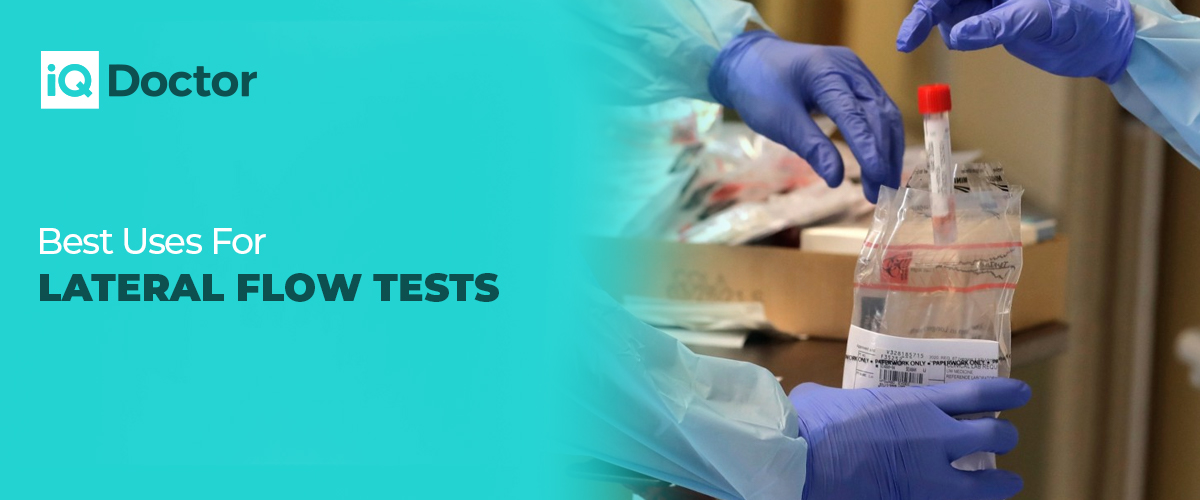 The primary tool we have for our fight against COVID-19 is frequent rapid testing. As we enter fall, schools and businesses across the UK have been opened. Employees are expected to come into their workplaces, and students are to attend classes on campus. To avoid another outbreak of COVID-19 and a subsequent lockdown that may stifle our path to normality, we need to carry out frequent testing.
Polymerase Chain Reaction (PCR) Test has so far been the gold standard when conducting testing throughout the world. It is highly accurate and has a minimal chance of a false-negative result. However, the PCR test can take a long time to be processed in labs and the average time before an individual can receive their result is anywhere from 48 to 72 hours. PCR tests are also expensive, and the cost of the test kit, plus shipping and processing fees, can add up to an amount that may not be affordable to many people.

The Lateral Flow Test is emerging as the new go-to testing option for COVID-19. It is a lot more affordable for regular testing and therefore easy to scale up for mass testing as well. Individuals can administer the test themselves at home and get results within 30 minutes. Unlike the PCR tests, the Lateral Flow Tests do not need to be sent to the lab for results. The main trade-off for switching to Lateral Flow Test over PCR tests is the sensitivity factor. Lateral Flow Tests are relatively less sensitive as compared to PCR tests and can give false-negative results. However, these cases are not as recurrent.
What Can Lateral Flow Tests Be Used For?

Bi-Weekly Tests
Rapid population testing is the current plan the government has initiated to control COVID-19 cases in the UK. Aside from vaccination, the goal is to test, trace and isolate. The Lateral Flow Test is an ideal fit for this plan as it is more efficient in the turnaround time of results and more cost-effective. It allows for a quicker reaction time to any potential outbreak of COVID-19.
Asymptomatic Testing
Not all coronavirus carriers display typical symptoms of COVID-19, and therefore, some individuals could be unknowingly infected and spread it to others. To avoid such an outcome, COVID-19 Lateral Flow Tests can be used to test everyone even if they are not showing symptoms of the infection. If they test positive, they can immediately isolate and then take a PCR test to confirm infection. As a result, asymptomatic testing can significantly curb the number of COVID-19 cases.
Close Contact

Once the infection status of one individual has been confirmed, all other people who have been in close contact with the infected individual are compromised. Therefore, to be safe, it is wise for all close contacts to be tested quickly. Lateral Flow Tests are used for this protocol, owing to the cost-effective and quick nature of the test. If a close contact is found to have COVID-19 by the Lateral Flow Test, they can confirm it by taking a PCR test.
Population Screening

Each test an individual takes is reported to the National Health Service (NHS). This data is used to understand the infection rates and localities of infection sources to determine the need for countermeasures. The government has set up contingency plans for when cases begin to rise again in local communities.

Lateral Flow Tests are used for population screening, as more people can easily use them to test themselves. The preliminary data is enough to stop the need for another countrywide lockdown. The ease of testing and the affordability of the Lateral Flow Test is more convenient for households across the UK than the PCR test.

Testing for travel